Official Logo Information
Changes to Special Olympic Brand
In September 2012 Special Olympics International reworked the international SO logo as described in The Special Olympics Brand Resources & Guidelines You can find out more detailed branding information and downloadable files: 3.4.0 - Branding of the information portal. Colour and font specifications have also changed.
Two examples of the Special Olympics Ontario logo for use in embroidery are shown here. Embroidery files for these are becoming available in 3.4.4.3 - Clothing & Embroidery Files.

Horizontal presentation, using Special Olympics Grey for the lettering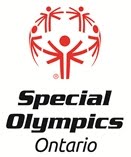 Vertical presentation, using Black for the lettering
Community Logos
The rules for fonts affects our official community logo. In our old logo the font used for Special Olympics is a proprietary font owned by Special Olympics International. It may now appear only in logos for Special Olympic accredited programs, such as Special Olympics Ontario. Communities and clubs are considered to be sub-Programs and may not use that font. The approved font for all other things is Ubuntu, which is a free, downloadable font which is easy to read. This is the font used in the Community headers, and logos.
We now have the updated community logo for Oakville from SOO. There is a new community header which you can see at the top of this page. In addition, there is a general use logo for Oakville and two shields.
All of these were provided in Encapsulated PostScript format (*.eps) which is the format which will be preferred for professional printing or embroidery. All but the banner were also supplied in PNG format. In addition, I have provided them in the JPG format for easier viewing. You may download using the links given, dimensions are given in pixels.
| | |
| --- | --- |
| | |
| | General Use |
| | Badge, 1 colour |
| | Badge, 2 colours |
Colour Palette
Along with the new logo, Special Olympics has provided a colour palette to complement the colours used in the logo. Wherever possible in this website we are using colours from this palette. You may view a demo of the colour palatte here.
Special Olympic Sports Icons
Special Olympics has also redesigned the sport logos, we are using them on our home page and they are available for other uses as well. If interested please download the SO Sports Icons Guidelines (pdf)